Shoulder Replacement Surgery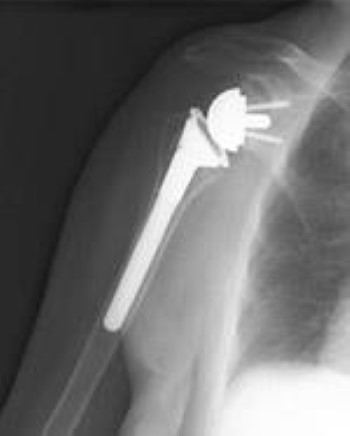 Just because you have osteoarthritis on an x-ray or an MRI;
1. Does NOT mean you need to see a orthopaedic surgeon.
2. Does NOT mean, you need a shoulder surgery or a shoulder replacement.
How to avoid surgery.
Because there can be complications during or after surgery – a shoulder replacement is considered the last option, not the first option.
To ensure that you have exhausted all non-surgical treatment options, you can expect your surgeon will want to know you've done all of the following for three to six months without any improvement in your shoulder function.
Make an appointment with a experienced orthopaedic physiotherapist and get a home-based rehab exercise program to strengthen your shoulder and maximize your range of motion.

Follow your rehab exercise program for a minimum of three months under the supervision of a experienced orthopaedic physiotherapist.

With your family physician explore pain management treatments/ medications that are appropriate for your medical profile.
Three questions to consider before undergoing elective shoulder surgery.
1. Have you exhausted every non-surgical treatment option for your shoulder without any improvement in function or reduced pain? YES / NO
2. Are you prepared to do rehab exercises everyday for a minimum of three months and up to six months after surgery? YES / NO
3. Are you willing to accept the risks that your pain and mobility may not be better after surgery? YES / NO
Watch the videos below
To help you make the most informed decision, the following educational videos are presented below.  The content is for educational reasons only and we do not endorse the presenters or their surgical clinics.
Terry Kane, Registered Physiotherapist (Calgary, Alberta)
Founder | Owner, OrthopaedicsCanada.com